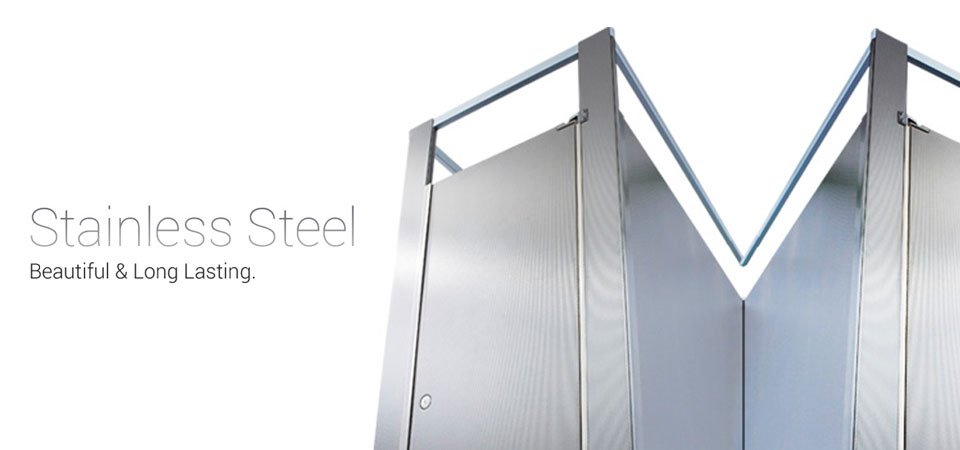 Stainless Steel
Stainless steel toilet partitions feature industry-best fire resistance, high recycled content and excellent corrosion resistance. Less expensive than composite and phenolic type options, stainless steel achieves an upscale look and outstanding performance at a cost effective price point.
Designs
Specifications
Options
Screens
Finishes
Downloads
Hadrian Stainless Steel Toilet Partitions
Beautiful and long lasting.
Product Highlights
Craftsmanship in Every Corner: Hadrian's trademark corners are unmatched for their clean, attractive appearance. The superior strength of Hadrian's full corner weld creates a hygienic seal and prevents parts from loosening and detaching.
Full Verticel Core: Doors, panels and pilasters are structurally reinforced with 0.5" (13mm) cell verticel honeycomb bonded from top to bottom and edge to edge throughout their entire core. The honeycomb reinforcement enhances strength, sound absorption and overall impact resistance.
Locking Bar Edge Moulding: All components are tack welded and interlocked under tension with a roll-formed oval crown locking bar for continuous bonding and a permanent, hygienic seal
Barrier-Free Latch: Hadrian's exclusive thumbturn lever conforms to American Disability Act and Canadian barrier-free requirements. It can be activated with a short, easy movement and without finger-grip application.
Emergency Access: Both standard and barrier-free latch designs allow access from the exterior in case of emergency. The design is minimal for appearance, easy cleaning and resistance to vandalism. The "Hadrian" name assists maintenance staff in locating the source for replacement parts.
Stainless Steel Brackets: Hadrian's #4 brush finished stamped stainless steel brackets extend the look and performance of stainless steel to the details of the installation.
Stainless Steel Wrap-Around Hinges: #4 brushed stainless steel wrap-around hinges offer durability and flawless performance.
Anti-Grip Headrail: Available in a standard anodized finish or brush finish to complement the look of stainless steel, Hadrian's double-ridge, anti-grip headrail design deters boisterous activity and consequent damage, while still offering a smooth track for shower curtain hooks.
Shoes: Pilaster shoes are available in both polished and #4 brushed stainless steel finishes.
Coat Hook: Hadrian offers a flat coat hook with a #4 brushed finish.
Fasteners: Available in chrome or stainless steel, fasteners are theft-proof 6-lobe security head screws to deter vandalism. Standard chrome hardware is also available for stainless steel toilet partitions.
Metal Hinge Pin with Nylon Sleeve: The metal core of Hadrian's upper hinge pin provides sturdy support while the self-lubricating nylon sleeve ensures smooth, quiet operation. The threaded pin can be easily removed and reinserted if necessary.
Optional Upgrades
Continuous Hinge: Hadrian's continuous stainless steel hinge matches the finish of stainless steel partitions while covering the full height of the door. Featuring a stainless steel hinge pin, this heavy-duty option also obstructs the sightline on the hinge side of the door.
Continuous Channels: Full height continuous stainless steel channels are available for all panel to pilaster, panel to wall and pilaster to wall connections. The full height channels match the finish of stainless steel partitions while also eliminating sightline gaps.
Junior Height Toilet Partitions: Ideal for pre-schools and other facilities that cater to young children, junior height toilet partitions feature smaller than normal doors (just 48" high), while still utilizing full height pilasters. Junior height partitions are available in headrail braced and floor mounted styles.