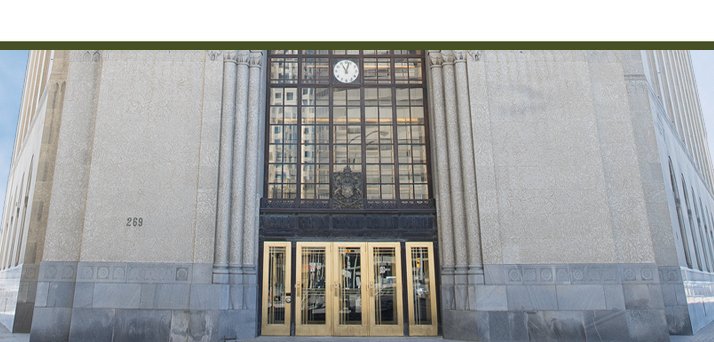 Victory Building, MB
Bronze Door Replacement and Restoration
269 Main Street • Winnipeg, Manitoba
During the era of the Great Depression (1935-1936), this beautiful building was erected in Winnipeg, Manitoba to house Canadian government offices.
Penner Doors & Hardware completed a custom retrofit of this building's main entry, foyer and lobby doors, to bring them back to their original intended appearance from the 1930s.
Working closely with Ambico Specialized Doors and Gallery Hardware suppliers, Penner provided specifications for the government tender and coordinated every aspect of the custom installation.
New bronze clad doors were installed in existing bronze frames, which were cleaned up and buffed to be closer to their original bright finish, matching the new doors.
Ambico supplied another highly specialized opening: a fire-rated bronze clad door and frame, with custom etching on the door at an interior stairwell in order to maintain a classic recessed panel look, and meet code requirements.

Special hardware details with the entrance and foyer doors included application of custom bronze decorative bars, push bars and door pulls, in the same style as those installed on the original doors.
A finishing touch was the Building Directory board frame created by Gallery Hardware, featuring custom designed bronze medallions at the corners and grooved detailing in the framing, to match the existing bronzework.
All the new doors and hardware feature the same bright buffed finish, giving the entrance a renewed elegance and nostalgic appearance with bronze cladding that gleams in the sunlight.
Photography credit: Jeurgen Severloh